Kontron, a global market leader for embedded computing technology (ECT), and a leading supplier of avionics systems for the Inflight Entertainment & Connectivity (IFE&C) market, has announced that aviation IT specialist, Lufthansa Systems, is utilizing the company's Cab-n-Connect™ A100 cabin wireless access point (CWAP) as the wireless connectivity platform for its innovative testbed on Lufthansa´s FlyingLab flights.
Cab-n-Connect delivers the superior performance required for simultaneous access of next-generation HD video streaming in dense multiple client applications on the aircraft.
Lufthansa initiated its FlyingLab flights to give passengers the ability to test and familiarize themselves first-hand with the latest technologies and services being developed for use on airlines as well as to showcase new stimulating types of live content and digital trends.
FlyingLab allows Lufthansa to introduce new technology and collect feedback in a real-world aircraft environment. In this context, the IT subsidiary Lufthansa Systems is responsible for the technical infrastructure enabling the WiFi connection on board. The WiFi network is based on the technology of Lufthansa Systems´ innovative digital platform BoardConnect.
Kontron's Cab-n-Connect A100 wireless access point with 802.11ac WiFi substantially increases bandwidth efficiency for next-generation HD video on the aircraft. The A100 allows both the client device and access point work together to provide an optimized communication path for stronger and faster data transmission.
Kontron technologies were chosen based on Lufthansa Systems' history of proven success with previous Kontron platform deployments where these certified open platform solutions gave them the most cost-effective and shortest route to deployment. Kontron's wireless connectivity platforms will be highlighted during the next FlyingLab event scheduled for May 15.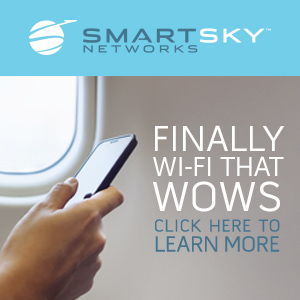 Kontron will demonstrate its complete line of avionics products at the Aircraft Interiors Expo 2017 held in Hamburg, Germany April 4 – 6, 2017 in the Kontron Booth #D50, Hall B2. Kontron is a leading supplier of avionics products to the rapidly growing IFE&C market. In addition to the Cab-n-Connect A100, Kontron offers the ACE Flight 4600 server, which is widely used by Lufthansa and other customers.
For more detailed information on Kontron's full line of scalable open-architecture avionics platforms, please visit: www.kontron.com/industries/avionics
About Kontron
Kontron, a global leader in embedded computing technology and a pioneer in secure IoT platform solutions, provides a combined portfolio of hardware, middleware and services. With its leading-edge standard products and solution ready platforms, Kontron enables new technologies and applications across multiple industries. As a result, customers benefit from accelerated time-to-market, reduced total cost of ownership, product longevity and the best overall application with the highest reliability in embedded technology. Kontron is a listed company. Its shares are traded in the Prime Standard segment of the Frankfurt Stock Exchange and on other exchanges under the symbol "KBC". For more information, please visit: www.kontron.com