Lufthansa Technik's selection of United Technologies Aerospace Systems' latest aircraft interface device (AID) for installation on more than 170 new and existing Lufthansa Airbus A320-family and A320neo-family aircraft signals the German carrier's intention to start using AID units for much more than integrating electronic flight bags with flight-deck avionics.
Holger Driesner, senior engineer avionics for Lufthansa Technik (LHT), says that while LHT has installed AIDs to date only in conjunction with integration of electronic flight bag (EFB) systems, the new 'AID 2.0' configuration from United Technologies Aerospace Systems (UTAS) can fulfil various additional tasks beyond that primary purpose.
The UTAS 2.0 can read maintenance data, establish ground communication and allow real-time diagnostics, as well as routing weather and flight data updates from the ground, according to Driesner. It will also be able to read data from environmental detectors such as water vapor sensors and support the compilation of weather models to optimize flight planning. Lufthansa will also be able to use its A320-family jets' UTAS AID 2.0s as video servers for internal and external cameras.
"Some of these features are already approved, some are evaluated and some just wait for their operational approval," notes Driesner.
LHT installed examples of UTAS' first-generation AID in all of Lufthansa Cargo's Boeing MD-11Fs and 777Fs in 2015. "The unit still works properly on both aircraft types and the cooperation with UTAS was excellent," says Driesner. But when LHT began planning in 2016 for installation of the new UTAS AIDs in Lufthansa's existing and new A320-family aircraft, "The bench testing in preparation of the Lufthansa A320 was focusing on connectivity."
According to Driesner, LHT's and Lufthansa's UTAS AID 2.0 installation concept foresaw that, in addition to reading out the A320-family jets' ARINC 429 data buses to ensure integration with their Rockwell Collins EFBs, the new AID would interface with the aircraft's ARINC 429 bus for ACARS communications.
Additionally, the new AID will provide an interface with Lufthansa's new Ka-band satcom system for cabin connectivity. Lufthansa and its technology partner Inmarsat are using Inmarsat's Ka-band Global Xpress network to provide broadband cabin connectivity on short and medium-haul flights operated by the carrier's A320-family fleet.
"Hence, all [of] that was simulated on the [avionics test] bench," says Driesner, highlighting the fact that "one of the most relevant advantages of the UTAS AID 2.0 was the stability of its communication interfaces and the compliance with data protocols".
LHT will perform the installations of UTAS AID 2.0s into new Lufthansa A320-family aircraft as "every new delivered A320 receives its tablet computer-based EFB system during an entry-into-service layover", according to Driesner.
In comparison with the first-generation UTAS AID, the company's AID 2.0 provides a higher processor speed; more memory (its baseline spec is 32Gb, according to LHT's Standard Configuration Hardware list for the A320ceo/neo installation); removable storage; and GSM (Global System for Mobile communication) and WiFi connectivity, according to Driesner.
"It supports GigaBit Ethernet as explicitly requested by Lufthansa and offers an improved Web-based diagnostic interface," he says. "It also offers a dedicated Ethernet port for external communication with extended network configuration options that are relevant for data security."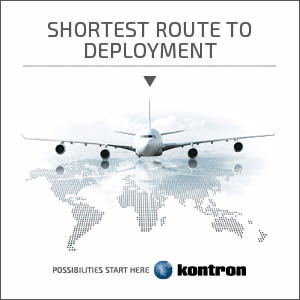 Data security "is a very relevant topic if you intend to perform operationally relevant tasks on your tablet computer-based electronic flight bag and interface it with safety relevant avionic systems, as well as with broadband data systems that might be used by the passengers in parallel", says Driesner. "Therefore data security is addressed in all of our certification programs for complex EFB system integrations."
In each installation, "the AID acts as a switch within the EFB network and the protection of the connected systems depends on their criticality," says Driesner. "The communication with safety-relevant systems like the 777 Onboard Network System (ONS) and the A380 Network Server System (NSS) is almost unidirectional. ACARS Management Units apply very robust protection mechanisms to prevent unauthorized access," he says.
"The EFB system itself uses a very well protected domain allowing only communication with controlled interfaces," adds Driesner. "And the Ka-band server also separates flight-deck communication from the passenger domain. The UTAS AID supports this concept of secured communication and our Lufthansa colleagues still feel comfortable with it in their daily operation."
In its 2 March news release announcing Lufthansa Technik's selection of the UTAS AID 2.0 for installation in Lufthansa's A320-family aircraft, UTAS noted LHT "is already preparing follow-on certifications on various commercial aircraft types for customers beyond the Lufthansa Group".
Asked by RGN if LHT might be seeking supplemental type certificates from the European Aviation Safety Agency, Driesner responds, "EASA delegated various privileges to Lufthansa Technik's Design Organization, so that many EFB system integrations can be approved as Minor Changes without direct and time-consuming involvement of the authority."
According to Driesner, "Lufthansa Technik holds approvals for AID integrations on the 777, MD-11 and A320. Lufthansa Technik has been awarded with further integrations on A320-family, A310 and A340 aircraft of customers beyond the Lufthansa Group. Next target aircraft are the 737NG and 747."
To date, Lufthansa Technik has installed AID-based EFB systems at its facilities at Frankfurt, Berlin, Shannon and Sofia. "Some of the aircraft of external customers will be modified at Hamburg," LHT's main base, says Driesner.
Although Lufthansa Group airlines Eurowings, Brussels Airlines, Swiss International and Austrian Airlines operate A320-family aircraft, LHT will not retrofit all those aircraft with UTAS AID 2.0s.
"The Lufthansa Group carriers work on harmonized EFB-system specifications, beginning with the cockpit interface – tablets, mounts and applications. A general retrofit throughout all fleets is economically not reasonable, but Lufthansa Technik acts as a technical consultant and service provider for the group and several of the airlines evaluate AID-based solutions," says Driesner.
"We are convinced that our 'cherry-picking' solution with the UTAS AID, a third-party mount and optimized Lufthansa Technik design for the structural and electrical integration [has] resulted in a very cost-effective configuration," he says.
LHT's standard configuration approved for AID installations in A320-family and A320neo-family aircraft specify integration with the aircraft's ARINC 429 and 717 databus interface sources. These include the Flight Management Guidance Envelope Computer; Flight Warning Computer; Air Traffic Service Unit; Air Data Inertial Reference Unit; System Data Acquisition Concentrator; Display Management Computer; and Flight Data Interface Management Unit.
In LHT's standard A320-family installation, AID-integrated communications are via the aircraft's ACARS messaging and Lufthansa Ka-band systems. The AID interfaces are for A429/717, Ethernet routing, server/storage and  the ARINC 834 STAP (simple text avionics protocol) server. The AID's interface panel has 2 LAN RJ45 interface and a 28 VDC (volts direct current) interface. The EFB mount and cradle are for the Microsoft Surface 3 and Surface 4.
Related Articles: