Last October, Airbus Corporate Jets unveiled its Melody cabin concept for the ACJ320neo family. Flowing curves punctuate every room and help guide passengers along the aircraft's primary fore-aft pathway, creating a distinctive look that head of creative design & concepts, Sylvain Mariat says was "inspired by the curves of nature, such as hilly horizons, rolling rivers and desert dunes".
Two months on and David Velupillai, 
marketing director at Airbus Corporate Jet Centre, has more to say on the concept. Although ACJ320neo customers are free to adopt the concept in its entirety, he explains: "It will be up to each to decide what they opt for in their ACJ320neo family aircraft. Their choice could thus be something inspired by the Melody concept, or a more traditional approach."
He reveals that Melody is initially proposed for the ACJ319neo, but could be scaled to the larger ACJ320neo or ACJ321neo. He also notes: "Its fresh approach is aimed at the new generation of Airbus Corporate Jets, but it could also be applied to the current family – especially new-build aircraft."
Look beyond Melody's curves and it becomes apparent that the combination of careful design and the ACJ's wide cabin has enabled Mariat to create larger bathroom and kitchen spaces. He used experience gained through years of customer meetings to guide the wider Melody concept, while Velupillai confirms: "ACJ took into account the views of cabin crews in creating the concept. The result is a more practical kitchen, with more space than usual, as well as a more open environment."
It creates a workspace ideally suited to an onboard chef, for example, with ample stowage space for equipment, utensils and tableware.
Airbus has also taken a fresh look at audio-visual and connectivity provision. But with Wi-Fi, large screens and powerful sound systems de rigueur for top-end bizjet cabins, what new is there to add? "We began offering better connectivity via the latest Ka-band technology, as well as dual Ku-band, in 2016," Velupillai reveals. Melody offers 65-inch TV screens, larger than previously used in Airbus Corporate Jets. For the first time in an ACJ, they're also curved.
"Quality sound, delivered in cooperation with specialist company Focal, was integrated into the Melody cabin ceiling from the start – rather than being added later. The result is cinema-quality sound, as well as a more discrete speaker installation."
Of course, the ACJ320neo family delivers all the benefits of the A320neo airliner, including new-generation powerplant, Sharklets and other revisions for a fuel saving of around 16% on the ceo.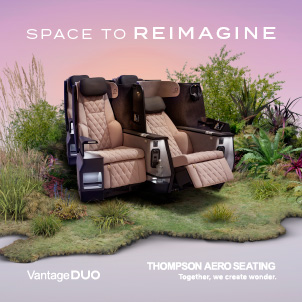 Combined with ACJ's latest efforts to create lightweight cabins through increased use of carbon fibre, and the additional centre tanks installed in ACJ320 family cargo holds, the neo innovations deliver impressive range.
According to Velupillai, the ACJ319neo will haul eight passengers across 6,750nm, their comfort assured not only by the Melody fit, but also by another improvement over the current aircraft.
"An average cabin-altitude of 6,400ft will yield a more comfortable cabin environment, especially on ultra-long flights, with a pressure closer to that on the ground."
Finally, he confirms that operators will continue to save on pilot conversion costs through the ACJ320neo family's common cockpits, while the step up to ACJ350 XWB, for example, will be accomplished with a minimum of retraining time and cost.
Related Articles: