GigSky, a provider of mobile data services for aircraft, has inked an agreement to market its products and services jointly with Ultramain Systems, which sells software systems to airlines for ground-based and flight-based maintenance and spares inventory control.
This teaming comes on the heels of a partnership agreement announced in May between GigSky and Avionica, a manufacturer of mini quick access recorders (QARs) and communications systems. Ultramain Systems is joining this existing partnership.
The three firms say they have completed testing and validation to ensure that GigSky mobile data connectivity works flawlessly in concert with Avionica hardware and Ultramain software. Runway Girl Network had an exclusive opportunity to put questions about the new partnership to Avionica VP of business development Sean Reilly (SR), GigSky VP of global sales Vikas Chand (VC), and Ultramain Systems director of flight technologies Larry Lenamon (LL), a Boeing 737 pilot. Our interview is below.
GigSky provides wireless connectivity to the aircraft, Avionica makes quick access recorders and data-transmission equipment (and now also operates an integrated global data services network) and Ultramain develops industry leading MRO software. How do you visualize all three of these companies' products and services working together?
SR: Our three companies complement each other to provide a complete solution for operators. Ultramain runs software on a hardware platform provided by Avionica, and GigSky is the backbone network moving the software data for airlines throughout the world. Avionica's Onboard Network Server – called aviONS – hosts Ultramain's software and the GigSky SIM cards. It is a synergetic approach for end customers.
VC: The transition to the fully connected aircraft is exciting, but definitely brings some challenges for operators. Selecting and integrating devices, software and connectivity is a complex task. Partnering with Ultramain and Avionica, we envision a simplified process, with a focus on streamlining and continual improvement of efficiency for the customer. Many of these customers are looking for a complete MRO solution. The partnership means we can meet that need and confidently introduce airlines to our industry-leading solution.
Will all data be transmitted over GigSky's network, or will Avionica's global data services network also be used to transmit data for analysis by Ultramain's MRO software systems?
LL: Ultramain's onboard software solution is the ULTRAMAIN ELB, which is the replacement of the aircraft paper technical log, cabin log, journey log, and damage log – including paper-based signatures. The software is designed to use any available communications channel to transmit data to/from the aircraft. With the integration onto the Avionica hardware, our application utilizes Avionica's airborne connectivity channel(s) inflight and the GigSky network on the ground. The ELB user is provided a seamless communication experience regardless of phase of flight.
SR: That is the power of the system. The end user uses the Ultramain software – the hardware will provide the lowest-cost routing and the software will provide the priority of the message, sending it to Ultramain's ground server and Airline Maintenance Control.
VC: With this MRO solution, GigSky's data network is now integrated with Avionica's global data services network, which, with our help, is more robust than ever.
Will only the ULTRAMAIN ELB application be integrated to work with the other two companies' products and services, or will Ultramain's other maintenance and engineering (M&E) and MRO applications also be able to use or transmit the data transmitted?
LL: The ULTRAMAIN ELB is the primary application that interacts directly with the Avionica and GigSky products and services onboard the aircraft. With this integration, customers with Ultramain or other M&E systems can receive real-time, high quality logbook data that drives numerous improvements in efficiencies in both the short-term and long-term maintenance of the aircraft.
Within the partnership, will all data provided to Ultramain's software systems be that recorded by Avionica's QAR units onboard the aircraft? If so, approximately how many QAR data parameters will be used by Ultramain's software systems?
SR: Avionica's aviONS Onboard Network Server becomes a repository for the Ultramain ELB software and allows multiple users to connect while at the aircraft. The built-in wireless access point in the aviONS provides the network for the users, and then when on the ground, our avCM Communications Module provides the robust 4G network for the movement of data to and from the aircraft, providing a true e-enabled system. Avionica can provide EICAS (engine-indicating and crew-alerting system) messages, system status and more to the Ultramain application.
LL: One of the key functions and benefits of the Avionica hardware is that it provides a data repository for the logbook data onboard the aircraft. Since many airline operators use crew-issued mobile devices, the Avionica hardware becomes the 'master' logbook for the aircraft during normal operations. Thus, any number of users – whether flight crew, maintenance, or cabin crew – can directly interact with the most current version of the aircraft logbook onboard, which allows for fully autonomous logbook operations in those rare occasions when communications to the ELB Ground System are not available. Regarding use of data from the Avionica unit, that is a roadmap item. In the same manner that the Ultramain 1.3 logbook application functions on the electronic flight bag system of a Boeing 787, the mobile ELB 2.0 application will be able to ingest a number of parameters from the aircraft, such as FMS flight information, weight-on-wheels discrete, GPS position, and CMC-fault messages, to name a few.
How many aircraft performance and health monitoring data parameters do Avionica's miniQARs record?
SR: Avionica's recorders can record all the parameters on the aircraft (see RGN's September report). There is no limit to the Avionica hardware: it is actually a function of the output capability of the aircraft. Avionica's recorders are not limited to recording only ARINC 717 data. They can also receive data from ARINC 429 channels to enhance recording for operators' needs.
Using the three-way partnership, will airlines or other customers be able to transmit their data to and from aircraft real-time during flight, or is all data transmitted post-flight?
SR: Avionica has designed a total e-enabled system for airline flight operations. The ultimate platform is our aviONS onboard network server, which has a robust data concentrator for all the ARINC 429 and ARINC 717 channels to connect to the aircraft systems, along with built-in WiFi for users to connect to the ONS, as well as an expandable memory storage up to 1TB, and finally, a 4G Communications Module. The aviONS – along with our satLINK MAX Iridium system with up to four separate Iridium channels available – provide the ultimate in data movement and management for the airline, giving the operator the ability to have the aircraft as a node on their network.
Is the data transmitted over GSM, LTE or other cellular networks, or over satellite networks, or both?
VC: The data is primarily targeted to ground-based LTE networks. When LTE is not available, we transmit over 3G. If transmission is required in the air, satellite service may be used via Avionica's aviONS system.
Is Ultramain's ELB application offered as an app for pilots' electronic flight bags? If so, because the software might need to interact with the aircraft's databus to receive data on aircraft performance and health monitoring from the Avionica QAR, does it need to be certificated only for Category 2 or Category 3 EFBs, or can it also be used with Category 1 EFBs, which don't necessarily require STCs for installation?
LL: The ULTRAMAIN ELB is an app that operates on both installed and portable EFBs. As a Type B software application (as defined in EASA AMC 20-25 and FAA AC 120-76), certification for use on either type of platform is not required, but operational approval is required. Currently, our ELB has more ops spec approvals from regulatory authorities around the world than any other software provider.
Do Ultramain's MRO and M&E software suites, such as ELB, transmit any data back to the aircraft flight deck? If so, what sorts of data do they transmit back, and when?
LL: The ELB Ground System is the ground-based server that manages an operator's entire fleet. The ground system provides message acknowledgements back to the ELB app onboard or on a user's mobile device. In addition, it also pushes out resources and aircraft logbook data that the mobile application needs.
How will Ultramain's MRO software systems use the data they obtain from aircraft via the three-way partnership? Will they be able to provide predictive maintenance and optimal maintenance-scheduling services?
LL: The Ultramain MRO software has line maintenance planning, line maintenance scheduling, and aircraft health & reliability management modules that can take advantage of this real-time data to help the operator minimize the impact of inbound aircraft maintenance events in the short term and utilize the data for analysis to improve maintenance reliability in the long term.
Will installation and operation of the equipment used by the three-way partnership require any changes in the STCs already obtained by Avionica for its miniQAR and other equipment?
SR: Avionica STCs will not need to be changed to add Ultramain software or the GigSky SIM cards. The GigSky network is in use today with several of our operators and growing all the time, and the Ultramain ELB software will be added to the aviONS onboard network server and put into operational use at each individual airline under their operational specifications.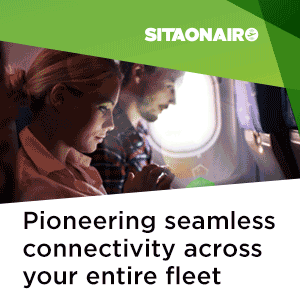 You say the three-way partnership will help airlines and aircraft operators save money. How will the interaction of your products and systems do so for your customers?
SR: Avionica brings the customer a robust hardware platform to host Ultramain software and other software items that an airline may need (checklist, manuals, weather), as well as a hot spot for the user since the built-in communications module hosts the GigSky SIM Card. Having the ability for a customer to get all this in an already integrated approach will save the airline time and cost since the integration work is done and in use and ready for delivery today.
VC: Avionica is able to use a single SIM in all its devices that can take advantage of the best LTE/GSM networks available on the ground anywhere in the world at low cost. The more data that Avionica is able to deliver during the short periods when the aircraft is landed, the cheaper the cost is overall. This is inevitably passed on to the customer.
LL: The key functions that Avionica and GigSky provide for the ULTRAMAIN ELB 2.0 mobile electronic logbook are onboard logbook data repository and robust air/ground and ground communications. This leads to improved aircraft maintenance operations resulting in cost-saving benefits, such as reductions in gate delays, maintenance interruptions and cancellations, deferral rates, component removals, logbook errors and compliance issues, and lost revenue due to the maintenance impact on passenger loyalty.
Related Articles: