Early in December, aeronautical satellite communications company AERO-SATCOM announced it has been appointed a value added reseller for Inmarsat's Ka-band Global Xpress (GX) connectivity product for the government aero market. Although it excludes the United States, the deal with Inmarsat's Global Government Unit presents AERO-SATCOM, a joint venture between Eclipse and NSSLGlobal, with the opportunity to deliver GX in a uniquely challenging environment.
On announcing the arrangement, AERO-SATCOM immediately revealed its initial GX government contract – furnishing a fleet of head-of-state aircraft for a European customer – and confirmed its ambitions to have the work completed and GX fully operational by February of next year.
AERO-SATCOM sales director Shaun Flanagan tells Runway Girl Network that the company is involved on multiple levels, helping provision and manage the airborne network. "GX is quite different to L-band, where you'd call services up individually. With Ka and Ku-band you just have a 'fat pipe' coming onto the aircraft."
He adds:
For government/VIP operations, users want to manage who has how much bandwidth and when. At times they might be happy to share bandwidth with journalists or other entourage members on board, but if there was an emergency, for example, they want to be able to dynamically allocate all resources to the head of state or other VIP.
AERO-SATCOM is provisioning the hardware and software to enable the capability, and hosting ground servers, leveraging NSSLGlobal's infrastructure background and experience. "In some cases the operator may not want or be permitted to pay for civilian entourage members' access to a government system, so we've also facilitated a card payment system," notes Flanagan.
In essence, AERO-SATCOM is using GX as the basis of a complex system capable of delivering pay-as-you-go credit card access to connectivity whilst simultaneously offering the secure, encrypted transfer of nationally important data.
Commenting on the essential security aspects of government GX use, Flanagan says: "All the GX service providers will have to deal with the reality of the 'fat pipe', without Inmarsat necessarily managing the type of service or how much of a service an individual user is going to get. How it's tailored will differ, based on the customer.
"A business aviation customer won't have the concerns we're addressing in terms of security of information. Others will have to deal with these issues, but how much they tailor their service depends on the markets they address – the government market is very much what we're looking at with AERO-SATCOM. It's where Eclipse – which developed a secure, managed VOiP solution for the French head-of-state fleet some years ago – and NSSL in the maritime and land mobile environments have been focussed, and what made them a good match for AERO-SATCOM."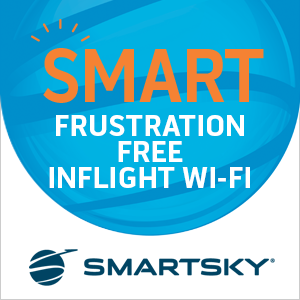 With respect to the GX product, its capability is a boon for government operators used to the machinations of L-band, but presents its own set of security and service challenges (GX is not approved for safety services). And while business aircraft across the board become increasingly data hungry, government and military operators are demanding ever more bandwidth as they seek to extract intelligence, surveillance, reconnaissance and other capabilities from their platforms.
"From a mission capability perspective the requirements [are] there," says Flanagan, "but with the nature of aircraft manufacturing and the tendering process for different types of equipment, the platforms currently being delivered have systems that are really quite antiquated.
"But the desire is there and it's a big focus for us to take our expertise to British, French, German and other European operators looking for this kind of connectivity, taking a holistic approach to delivering it."
Related Articles: