Panasonic Avionics Corporation (Panasonic) and Safety Line today unveiled a strategic partnership that will enable airlines to benefit from significant fuel savings.
Panasonic Weather Solutions (PWS) provides Safety Line with enhanced global weather forecast through real-time weather data collection from its TAMDAR sensors and FlightLinkTM Iridium system.
TAMDAR data provides observations of wind, temperature, and moisture every five seconds as TAMDAR-equipped aircraft descend and ascend at nearly 300 airports across North America. It also collects about 3,500 profiles each day from several hundred additional airports located in East Asia, the Pacific, and Europe.
This data is used by Panasonic's Forecasting Center of Excellence (FCoE), which develops detailed station-based weather forecasting, as well as enhanced weather forecasting.
Panasonic's expert meteorologists will use these unique atmospheric datasets, as well as sophisticated 4D quality control and proprietary forecasting models, to provide Safety Line with state-of-the-art and unmatched forecasts.
OptiClimb from Safety Line uses such highly accurate, real-time refreshed PWS weather forecasts in lieu of the standard weather parameters to offer optimized climb profiles for each flight.
The process is fully automated from the weather live feed to flight plan analysis and climb schedule issuance to the pilot.
Airlines can reduce fuel consumption by up to 10 percent during ascent thanks to OptiClimb's unique patented solution, which uses a combination of machine learning performance models for each individual aircraft, and the computing of optimized climb profiles issued ahead of each flight.
Transavia is the launch customer for OptiClimb, and will use the solution in the operation of its fleet of 26 Boeing 737-800 aircraft.
PWS FlightLink weather sounding and tracking system is already in service on 35 Airbus A320 aircraft at Air Asia, and there are 250 aircraft in service globally with PWS TAMDAR weather sensors.
Chris Lundquist, VP Corporate Strategic Innovations said: "This partnership with Safety Line further develops our proven weather forecasting strategy and delivers clear bottom line benefits for airlines."
Pierre Jouniaux, founder and CEO of OptiClimb added: "Optimization is highly reliant on the accuracy of the inputs fed into the algorithms. Panasonic Weather Solutions' accurate, real-time forecasts allow us to optimize climb profiles more efficiently, saving more fuel dollars and CO2 for our joint customers."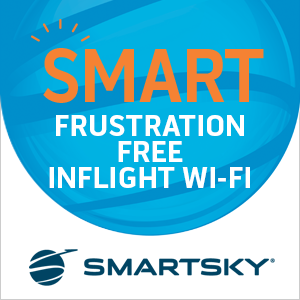 Panasonic Weather Solutions
Panasonic Weather Solutions is the only private entity in the world with a custom-developed, end-to-end global weather-modeling platform. Panasonic Weather Solutions weather forecasting capabilities are a result of unique atmospheric data collection as well as custom, high-performance numerical weather prediction models that run on an 11,000-core supercomputer named Sora. Panasonic partners with governments to enhance public safety as well as with leading corporations in multiple vertical markets to improve operational performance and become more environmentally friendly with best-in-class weather forecasting.
About Panasonic Avionics Corporation
Panasonic Avionics Corporation is the world's leading supplier of inflight entertainment and communication systems. The company's best-in-class solutions, supported by professional maintenance services, fully integrate with the cabin enabling its customers to deliver the ultimate travel experiences with a rich variety of entertainment choices, resulting in improved quality communication systems and solutions, reduced time-to-market and lower overall costs.
Established in 1979, Panasonic Avionics Corporation, a U.S. corporation, is a subsidiary of Panasonic Corporation of North America, the principal North American subsidiary of Panasonic Corporation. Headquartered in Lake Forest, California with over 4,554 employees and operations in 80 global locations, it has delivered over 8,000 IFE systems and 1,300 inflight connectivity solutions to the world's leading airlines. For additional information, please visit www.panasonic.aero
Safety Line
Paris based Safety Line offers Big Data software solutions for the safety and efficiency of airline and airport operations with a focus on fuel and CO2 emissions reduction. The combination of a solid expertise in aviation associated with patented research in data science applied to air transport allow Safety Line to offer uniquely innovative solutions to airline and airport operators. Safety Line's philosophy of integrating with whichever solutions customers already have in place, through strategic partnerships and an open architecture, allows customers to achieve better results with minimum effort.
Featured image credited to istock.com/JakeOlimb