This summer Gogo Business Aviation announced it is now enabling an "open router environment" in a bid to give its inflight connectivity customers the power to select a router to meet their specific needs.
Customers currently access Gogo Business Aviation's connectivity services through equipment supplied by the company, either the Aircell Cabin Telecommunications Router (CTR) or the UCS 5000 "smart" router. The former enables wifi connectivity, while the latter adds voice, movies/television, weather, map compression and other services.
But under the new paradigm, Gogo is type certifying selected routers for compatibility against its air-to-ground (ATG) network, as well as for Inmarsat's SwiftBroadband service and Jet ConneX the business aviation service powered by Inmarsat Global Xpress.
"We're in contracting discussions with several entities for third party router approval testing. We're not yet at a stage where we can mention specific providers, but these will be announced in the near future," a Gogo Business Aviation spokesman told RGN in a recent interview.
Interestingly, the company is not seeking merely to endorse the most popular products. Instead it aims to work with manufacturers on a series of router trials. "The work will include throughput tests on the Gogo network, DHCP [dynamic host configuration protocol] lease tests, Gogo Biz Voice tests and additional Gogo features testing, among other assessments," says Scott Richter, VP-product, inflight connectivity services.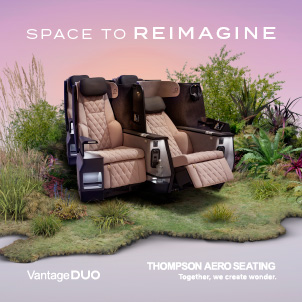 Gogo is therefore looking carefully at functionality, but also recognizes that for business customers the service provider and router are of little consequence if there are connection problems that aren't solved quickly, or security concerns. Consequently, customer support, customer service and security are also key considerations in the router certification process.
Once customers are accessing connectivity through the router of their choice, "there will be no impact or implications specific to revenue or billing", assures Richter.
Enabling operators to choose routers from outside Gogo's own product range may also open up a new market. The new routers are likely to include smaller, lighter products than those currently available, potentially introducing Gogo's services to smaller turboprops and light jets, and perhaps even helicopters.
"That's what we hope happens," says Richter. "If an operator wants a smaller router for a King Air or PC-12, say, they will now have other options to consider that will be a fit for their airframe. For helicopters, it's possible given the smaller size options that may become available, but because our ATG system works best above 10,000ft, it likely won't be leveraged much in that space."
Gogo is also cognizant of the possibility that existing CTR or UCS 5000 operators might switch to alternative routers once its certified list is released, and while Richter admits that may happen, he says: "We're doing this to provide new options and a better experience.
"Some may abandon their existing equipment for new routers, but we also see the initiative attracting new customers, opening access to some who didn't have it before and those who appreciate the additional flexibility."
Related Articles: