Gogo Business Aviation (NASDAQ: GOGO), a leader in connected airplanes, today announces it is expanding its in-flight entertainment (IFE) service, Gogo Vision, to better serve its international customer base by offering studio-licensed movies and TV episodes in seven languages. Gogo is the leading provider of wireless in-flight entertainment in business and commercial aviation.
The enhanced language capabilities are part of a larger initiative to provide the broadest entertainment offerings for customers worldwide, and in the United States, to choose from while in flight, and will be available in early 2017.
Gogo Vision Language Enhancements
Gogo Vision app is configurable in one of the following languages:
Arabic
English
French
German
Italian
Russian
Spanish
Audio tracks for movies and TV episodes in up to seven languages:
English
French
German
Italian
Russian
Spanish
Swedish
Gogo Vision provides a high-quality entertainment experience with a straightforward base monthly service fee that is capped, which removes the unpredictability and often high costs associated with streaming video and audio. Available globally, Gogo Vision delivers the latest releases from Hollywood and approximately 200 on-demand movies and TV shows – along with moving maps, news, flight progress information and destination weather, in addition to file sharing and Cabin Management Systems integration.
"Our customers – especially those who fly internationally – told us they wanted more language options for Gogo Vision to make it more appealing and user friendly," said Sergio Aguirre, Gogo Business Aviation's senior vice president and general manager. "The options and capabilities we deliver with Gogo Vision continue to expand. Earlier this year we started providing Gogo Cloud service in London and Paris, and we will continue to respond to the market by giving passengers a fantastic, turn-key IFE experience, regardless of the language they speak or where they travel."
Gogo Vision content is stored on an on-board server and streamed directly to personal electronic devices such as tablets or shown on cabin monitors. By storing content onboard and offering a unique way of updating that content, Gogo Vision lets customers avoid potentially high data charges incurred by streaming content to the aircraft via a satellite link.
Automatic content updates for Gogo Vision are available in a customer's own hangar and at Gogo Cloud locations in the U.S. and Europe, with additional locations coming in Europe in 2017. All required Gogo Cloud equipment and hardware required to enable in-hangar updates is included at no cost.
Gogo Vision content can be viewed on personal devices such as iPhones, tablets and laptop computers, in addition to in-cabin monitors with the purchase of a Gogo Video Processor Unit (GVPU).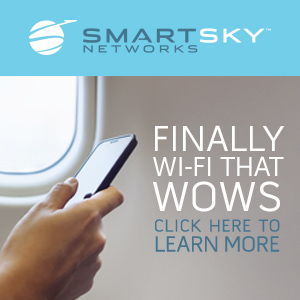 Gogo at NBAA
Gogo will showcase a complete range of global and U.S. domestic in-flight connectivityand entertainment solutions for business aviation at the annual NBAA Business Aviation Convention & Exhibition, Nov. 1-3 in Orlando, Fla., at booth 1844, and in the Static Display of Aircraft at location S35 where the Gogo Challenger 600 will be on display to highlight the latest Gogo equipment and services.
About Gogo
With more than two decades of experience, Gogo is the leader in in-flight connectivity and wireless entertainment services for commercial and business fleets around the world. Gogo connects aircraft, providing its aviation partners with the world's most powerful network and platform to help optimize their operations. Gogo's superior technologies, best-in-class service, and global reach help planes fly smarter, our aviation partners perform better, and their passengers travel happier.
Today, Gogo has partnerships with 17 commercial airlines and is installed on more than 2,800 commercial aircraft. More than 7,000 business aircraft are also flying with its solutions, including the world's largest fractional ownership fleets. Gogo also is a factory option at every major business aircraft manufacturer. Gogo has more than 1,000 employees and is headquartered in Chicago, Ill., with additional facilities in Broomfield, Colo., and various locations overseas. Connect with us at www.gogoair.com and www.business.gogoair.com.
Cautionary Note Regarding Forward-Looking Statements
Certain disclosures in this press release include "forward-looking statements" that are based on management's beliefs and assumptions and on information currently available to management. Most forward-looking statements contain words that identify them as forward-looking, such as "anticipates," "believes," "continues," "could," "seeks," "estimates," "expects," "intends," "may," "plans," "potential," "predicts," "projects," "should," "will," "would" or similar expressions and the negatives of those terms that relate to future events.  Forward-looking statements involve known and unknown risks, uncertainties and other factors that may cause the Gogo's actual results, performance or achievements to be materially different from any projected results, performance or achievements expressed or implied by the forward-looking statements.  Forward-looking statements represent the beliefs and assumptions of Gogo only as of the date of this press release and Gogo undertakes no obligation to update or revise publicly any such forward-looking statements, whether as a result of new information, future events or otherwise.