Gogo (NASDAQ: GOGO), the global leader in providing broadband connectivity solutions and wireless entertainment to the aviation industry, and Phasor, a developer of innovative, modular, electronically steerable antennas (ESAs), have announced a research and development partnership for application of their technology to the in-flight connectivity market.
"Gogo is committed to offering our aviation partners a roadmap for the future that will bring the most bandwidth at lower costs to the aero market," said Gogo's president and CEO, Michael Small.  "Whether it's satellite advancements, new modem technologies or best in class antenna technologies, our focus is on what's best for aviation, and Phasor is developing ground-breaking satellite antenna innovations for the aero market."
Phasor's very low profile, electronically-steerable antenna products are based on well-established semiconductor fabrication techniques, and enable signal tracking with no moving parts. The antenna architecture is inherently modular, which allows the system to be scaled to various sizes and dimensions depending on the demands of the application, making this antenna technology particularly attractive for smaller aircraft.
"Gogo is a technology leader in the in-flight connectivity market, and we are very pleased to partner with them so that together we may address the burgeoning demand for communications in the aeronautical broadband sector," said David Helfgott, CEO of Phasor.  "Phasor's breakthrough technology is powerful and flexible and can therefore facilitate multiple in-flight connectivity applications. We look forward to working closely with the Gogo team to better serve this important and growing market."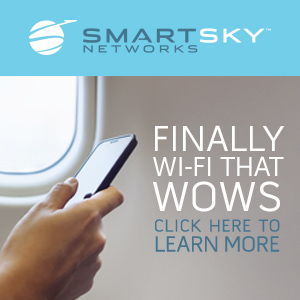 About Gogo
With more than two decades of experience, Gogo is the leader in in-flight connectivity and wireless entertainment services for commercial and business fleets around the world. Gogo connects aircraft, providing its airlines partners with the world's most powerful network and platform to help optimize their operations.  Gogo's superior technologies, best-in-class service, and global reach help planes fly smarter, airlines partners perform better, and their passengers travel happier.
Today, Gogo has partnerships with 17 commercial airlines and has installed in-flight connectivity technology on more than 2,800 commercial aircraft. More than 7,000 business aircraft are also flying with its solutions, including the world's largest fractional ownership fleets. Gogo also is a factory option at every major business aircraft manufacturer.  Gogo has more than 1,000 employees and is headquartered in Chicago, IL, with additional facilities in Broomfield, CO, and various locations overseas. Connect with us at www.gogoair.com and business.gogoair.com
About Phasor, Inc.
Phasor Inc. is a leading developer of high throughput, enterprise-grade, modular phased array antennas, headquartered in Washington DC, with a technology development subsidiary in the UK. Phasor's electronically steerable antennas (ESAs) are based on patented innovations in dynamic beamforming technologies and system architecture. Phasor's mission is to enable high-speed broadband communications while in-flight, at sea or travelling over land. For more information please visit www.phasorsolutions.com
Safe Harbor Statement
Certain disclosures in this press release include certain "forward-looking statements" within the meaning of the federal securities laws that are based largely on our current expectations and reflect various estimates and assumptions by the Company.  Forward-looking statements are subject to known and unknown risks, trends and uncertainties, many of which may be beyond our control, that could cause actual results and achievements to differ materially from those expressed in such forward-looking statements. Such risks, trends and uncertainties include those described under the heading "Risk Factors" in the Company's Annual Report on Form 10-K filed with the U.S. Securities and Exchange Commission on February 25, 2016. The words "may," "might," "will," "could" "should," "estimate," "project," "plan," "anticipate," "expect," "intend," "outlook," "seek," "designed," "assume," "implied," "believe" and similar expressions generally identify forward-looking statements. Readers are cautioned not to place undue reliance on such forward-looking statements, which are being made as of the date of this press release. Any forward-looking information presented herein is made only as of the date of this press release and we undertake no obligation to update any forward-looking statements, whether as a result of new information, future events or otherwise.