As Gogo Business Aviation (NASDAQ: GOGO), a leader in connected airplanes, continues toward its scheduled launch of its 4G service in the first half of 2017, Constant Aviation will be one of the first Gogo dealers to develop Supplemental Type Certificates (STCs) for the new system.
Constant, a full-service maintenance, repair and overhaul Gogo dealer, will develop STCs for Embraer 145 Series Shuttle, Legacy 600/650, Gulfstream V, and Phenom 300 aircraft, and will participate as a partner for hardware sales and installations on other business aircraft.
"Our clients are eager for the increased capability Gogo's 4G network will deliver for inflight connectivity and entertainment," said Jay Rizzo, vice president of sales at Constant Aviation. "The new technology we will be installing, operating on Gogo's proven, reliable network, will enable business travelers to get more done while inflight and promises a great value."
Gogo will provide a reliable 4G experience with superior connectivity for passengers over existing technologies. The new service will include services such as Gogo Vision, providing the latest movies, TV, flight tracker, weather reports, and additional features; Gogo Text & Talk, allowing passengers to call and text with their personal smart phones and mobile numbers; streaming video and audio; as well as face-to-face conversations with a user's favorite applications; email with attachments; and web browsing – on a proven network in the continental U.S. and large portions of Alaska and Canada.
"Constant Aviation continues to be a trusted partner with expertise and a sterling reputation of delivering great service to its clients," said Andy Geist, senior vice president of business aviation solutions for Gogo. "We are pleased to partner with Constant Aviation as we continue to progress toward the launch of our 4G service in 2017, and our next generation network in 2018."
Created specifically for the business aviation market, Gogo's 4G system is a specially designed application of Gogo's air-to-ground technology that leverages its existing ground network of more than 250 towers, fiber backhaul and technology that has already flown hundreds of thousands of hours aboard thousands of business and commercial aircraft. The 4G equipment package will incorporate dual-band 802.11ac Wi-Fi service and a host of other features – all from a single, lightweight box.
About Gogo
With more than two decades of experience, Gogo is the leader in in-flight connectivity and wireless entertainment services for commercial and business fleets around the world. Gogo connects aircraft, providing its airlines partners with the world's most powerful network and platform to help optimize their operations.  Gogo's superior technologies, best-in-class service, and global reach help planes fly smarter, airlines partners perform better, and their passengers travel happier.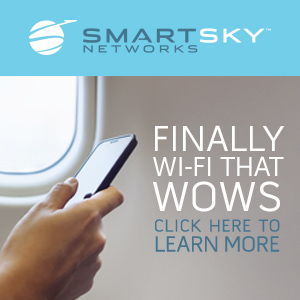 Today, Gogo has partnerships with 16 commercial airlines and has installed in-flight connectivity technology on more than 2,800 commercial aircraft. More than 7,000 business aircraft are also flying with its solutions, including the world's largest fractional ownership fleets. Gogo also is a factory option at every major business aircraft manufacturer.  Gogo has more than 1,000 employees and is headquartered in Chicago, Ill., with additional facilities in Broomfield, Colo., and various locations overseas. Connect with us at www.gogoair.com and business.gogoair.com
About Constant Aviation
Constant Aviation has locations at Cleveland Hopkins International Airport, Cuyahoga County Airport, Birmingham International Airport and Las Vegas International Airport.  All facilities specialize in airframe maintenance, engine repair maintenance, major repairs, avionics, interior refurbishment, parts distribution, accessory and composite services.  As one of the fastest growing MRO's in the country, Constant Aviation understands the importance of aircraft availability, predictability and minimizing operational costs for their customers. Constant Aviation has raised the bar in aircraft maintenance expectations and provides customers with a one-stop shop option when it comes to maintenance events.  For more information, please visit www.constantaviation.com or call 216.261.7119.  Like us on Facebook and follow us on Twitter.
Cautionary Note Regarding Forward-Looking Statements
Certain disclosures in this press release include "forward-looking statements" that are based on management's beliefs and assumptions and on information currently available to management. Most forward-looking statements contain words that identify them as forward-looking, such as "anticipates," "believes," "continues," "could," "seeks," "estimates," "expects," "intends," "may," "plans," "potential," "predicts," "projects," "should," "will," "would" or similar expressions and the negatives of those terms that relate to future events.  Forward-looking statements involve known and unknown risks, uncertainties and other factors that may cause the Gogo's actual results, performance or achievements to be materially different from any projected results, performance or achievements expressed or implied by the forward-looking statements.  Forward-looking statements represent the beliefs and assumptions of Gogo only as of the date of this press release and Gogo undertakes no obligation to update or revise publicly any such forward-looking statements, whether as a result of new information, future events or otherwise.