Rockwell Collins' PAVES™ On-demand in-flight entertainment (IFE) system will be installed on 30 Next-Generation Boeing 737 and 60 737 MAX aircraft. Additionally, various avionics systems will be featured on 15 Airbus A330, 70 A320neo, 50 Next-Generation Boeing 737 and 60 737 MAX aircraft based on aircraft configuration, such as MultiScan ThreatTrack™ weather radar, GLU-925 Multi-Mode Receiver (MMR) and Head-up Guidance System (HGS™).
This is the latest in a series of selections by China Eastern for Rockwell Collins systems. Last year, the airline selected the Rockwell Collins PAVES™ Broadcast IFE and Airshow® moving map for 15 new 737 aircraft.
"The advancements we've made with our in-flight systems and avionics allow for a safer and more comfortable flying experience," said Jim Walker, vice president and managing director, International and Service Solutions, Asia Pacific for Rockwell Collins. "We look forward to building upon our relationship with China Eastern through the delivery of our advanced systems for the flight deck and cabin."
The scalable and flexible PAVES system allows for hybrid IFE configurations supporting the  airlines' requirements for unique configurations, such as in-seat IFE in first class and overhead IFE in economy. PAVES also offers airlines a high degree of flexibility in the management of their digital content.
MultiScan ThreatTrack alerts pilots to significant threats adjacent to or above a thunderstorm cell, beyond standard hail and lightning predictions. In addition, the new radar is the first in the industry to feature two levels of turbulence detection—severe and ride quality—which more accurately informs flight crews of the type of turbulence in their path.
Unique to MultiScan ThreatTrack is its patented Predictive Overflight™ Protection, which tracks thunderstorm cells ahead and below the aircraft, measures growth rate, predicts bow-wave turbulence and indicates potential threats in the aircraft's flight path.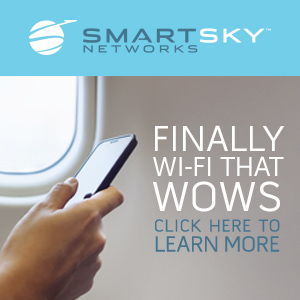 Rockwell Collins' GLU-925 MMR is the first certified GPS Landing System receiver and enables high-integrity navigation, including RNP AR, Category III ILS and Category I Global Positioning Landing System approaches. The MMR also enables GPS position and availability requirements for ADS-B Out mandates.
Rockwell Collins' HGS displays critical flight information in a pilot's forward field-of-view, eliminating the need for pilots to transition to the head-down instruments. As a result, pilots can keep their attention focused on the outside world, enhancing overall situational awareness and safety. HGS also provides airlines with cost savings from fewer diversions by enabling more takeoff and landings in low-visibility conditions.
About Rockwell Collins
Rockwell Collins is a pioneer in the development and deployment of innovative aviation and high-integrity solutions for both commercial and government applications. Our expertise in flight deck avionics, cabin electronics, mission communications, simulation and training, and information management is delivered by a global workforce, and a service and support network that crosses more than 150 countries. To find out more, please visit www.rockwellcollins.com.