Last month ORBIS International's third generation Flying Eye Hospital (FEH) touched down in Shenyang, China for their first official three week training program abroad. Running from 5 September through 23 September, the program may have been ORBIS's first actual mission in the new FEH – which is essentially a modular-designed, state-of-the-art, mobile ophthalmic teaching hospital on board a converted MD-10 aircraft – but it was actually ORBIS's 40th program in China since 1982.
Launched as part of ORBIS's 12-year partnership of blindness prevention work in the Liaoning Province, the FEH's inaugural program supported the ongoing "Shenyang Training for Prevention of Blindness" project implemented by ORBIS North Asia and the He University Eye Hospital (HUEH) and is especially timely given that China currently has the largest population of blind and visually-impaired citizens on the planet.
There are more than 8 million blind people in China alone, representing almost 21 percent of the world's blind population. China also has one of the highest global myopia rates among children, with over 90 percent of poor vision in children due to uncorrected refractive error. Nevertheless, China's ophthalmic residency programs generally provide limited, at best, hands-on surgical training for residents with less than a third of trained junior ophthalmologists being given the opportunity to perform surgery regularly after graduation. And that's where ORBIS stepped in.
The FEH's recent program in Shenyang didn't just provide continuing medical education tailored for local ophthalmologists, nurses, anesthesiologists, biomedical engineers and technicians through a series of onboard lectures, discussions, and clinical observations, but it also provided much-needed wet-lab and hands-on training in seven subspecialties, including cataract, glaucoma, pediatric, and orthoptics. And by leveraging the high profile of ORBIS' cutting-edge FEH, the program also helped to advocate for the expansion of hands-on training models for rural, county-level ophthalmologists and residents in the province among key stakeholders, the Chinese government and, in essence, the world.
And now, ORBIS is one of several organizations coming together to help celebrate the upcoming World Sight Day on 13 October. Hoping to raise awareness for the fight to end preventable blindness worldwide, ORBIS's unique, social media-fueled campaign is looking to enlist supporters around the globe with an easy ask.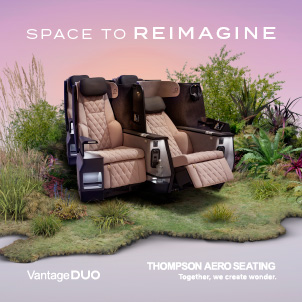 Between now and 13 October, supporters are encouraged to post a video on their social media channel of choice of themselves covering both of their eyes with one hand and completing the following sentence: "Without sight I couldn't/wouldn't be able to…" and then reading the statement below aloud.
"There are 285 million people in the world who are blind and 4 in 5 of them suffer from conditions that are curable, treatable or preventable, but they lose their sight because they don't have access to proper care. Join ORBIS this World Sight Day, October 13th, to help them transform lives by providing access to quality eye health care.
Give the gift of sight. #WithoutSight"
Here are two videos of Runway Girls-in-training spreading the word about ORBIS to help inspire you. For more information on ORBIS or their new Flying Eye Hospital, please visit http://withoutsight.org.
Related Articles: