Transport architecture specialists New Territory are pleased to release details of their new aircraft interior for Aeromexico's new fleet of Boeing 787-9s. The new designs demonstrate a refreshing sensitivity and respectfulness for passenger wellbeing, most notably in a radical new approach to organising social space which questions how airlines will use space onboard in the future.
Luke Miles, director at New Territory commented, "We've thought about aircraft architecture with a view to the future, looking beyond branded interior design and style that so often feels alien to aircraft interiors, as well as to the passenger. Instead we've been more sensitive to the airframe to create a space that feels more open, accessible, and more natural for passengers to move around."
A new destination that's home from home 
New Territory's design for the onboard social space (known as 'Espacio Premier') is a radical departure from a heavily branded business-class bar experience with limited seating, to a warmer, more welcoming kitchen-style environment, seamlessly integrated into the broader architecture of the aircraft.
The design work was grounded in two critical observations. The first was that in-flight experiences should, in reality, be all about increasing wellbeing and respecting the true context of the passenger. The second is that current bar experiences in the air can often create unwanted subdivisions within a class: people who aren't feeling particularly sociable or conversational feel reluctant to try and take a seat at a bar or help themselves to refreshments, if they can of course, gain access.
Luke Miles commented, "The term 'Beneficio Colectivo' (collective benefit) helped to frame the design narrative for the social space, as it needed to communicate a sense of openness and of casual, convivial equality. We observed that not everyone feels relaxed enough to talk when they're at a bar, so we designed the social space to feel and work less like a traditional bar and more like a beautiful domestic space. Here passengers feel relaxed enough to help themselves to drinks and refreshments, choosing if and how they interact with fellow passengers."
The notion 'Espacio Plural' (multiple spaces) was also used to help frame the new geometry of the space, which was conceived to create more than one aspect, more than one appearance. The faceted design encourages the natural flow of people through the space with its clean, unbroken lines and shifting perspectives that reveal different parts and sections of the bar as you walk through it. In addition, the asymmetric forms help to both frame the cabin crew and create sense of 'physical invitation' into the space. The whole area is contained by an impressive 'skylight', a large panel of overhead, flat light that imbues the space with warmth and fosters a sense of familiarity among passengers.
Lighting that boosts passenger wellbeing
New Territory drew upon the notion of 'Fisonomía Ambiental' (environmental character) in their approach to lighting: the interaction of people and their environment and visa versa, and the sensory and atmospheric experience of a space. Synthetic coloured lighting has been avoided within the cabin, so the focus is on passenger wellbeing, created through warmer, more natural light. The lighting directly relates to the passenger's experience during the flight. For example, a 'moment of revitalisation' gently wakes passengers up before landing with a much softer, more elegant transition from wake to sleep. This was achieved using a subtle peach-coloured light taken from the colour of the sky at daybreak, instead of the more sudden, stark lighting transitions usually deployed before landing.
Hugo Jamson, associate director at New Territory commented, "We've used white light throughout the whole cabin because it feels the most natural, allowing the interior to feel less synthetic and for people to feel as healthy and well within the space as possible. Our sensitively phased lighting scheme complements the rhythm of the flight and how people fit into it."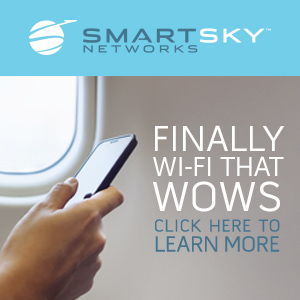 Continuity of craftsmanship between classes
A greater sense of continuity between classes has been created by ensuring a more consistent, high level of craftsmanship throughout the cabin. A more uniform quality of fabrics and surface finishes fosters a sense of familiarity among passengers, whatever class they are travelling in. New Territory have also developed a unique surface treatment pattern and used different scales and variations of it on seat fabrics and surfaces throughout the aircraft, helping to create a greater feeling of continuity between areas and classes.
About New Territory
New Territory is an advanced transport architecture studio with an emphasis on research and development driven design. Our mission is to develop ideas that truly improve the sector we are working in. Our expertise lies in transportation, but our approach and perspective resonates with clients both in the service and industrial design sectors. www.newterritory.io
About Grupo Aeromexico
Grupo Aeromexico, S.A.B. de C.V. is a holding company whose subsidiaries provide commercial aviation services and promote passenger loyalty programs in Mexico. Aeromexico, Mexico's global airline, operates more than 600 daily flights from its main hub in Terminal 2 at the Mexico City International Airport. Its route network spans more than 80 cities on three continents including 45 in Mexico, 18 in the United States, 15 in Latin America, four in Europe, three in Canada, and two in Asia.
Grupo Aeromexico's fleet of close to 130 aircraft is comprised of Boeing 787, 777 and 737 jet airliners and next generation Embraer 190, 175, 170, and 145 models. In 2012, the airline announced the most significant investment strategy in aviation history in Mexico, to purchase 100 Boeing aircraft including 90 MAX 737 airliners and ten 787-9 Dreamliners.
As a founding member of the SkyTeam global alliance, Aeromexico offers customers more than 1,000 destinations in 177 countries served by its top 20 airline partners rewarding passengers with benefits including access to 672 premium airport lounges around the world. Aeromexico also offers travel options through its code share partners Alaska Airlines, Avianca, Copa Airlines, Delta Air Lines, and WestJet with extensive connectivity in countries like Brazil, Canada, Chile, Colombia, Peru, and the United States. www.aeromexico.com and www.skyteam.com