The high speed cabin connectivity experience of the future is now one step closer for Zetta Jet customers with the delivery of the company's first Bombardier Global 6000* aircraft enabled with Inmarsat's Jet ConneX (JX). Rockwell Collins is the service provider and a value added reseller of JX connectivity as part of its ARINCDirectSM offering.
"Our passengers will be among the first in the world to experience the fastest and most reliable in-flight internet service available, which aligns with our goal of providing unparalleled luxury, performance and personalized service to our elite clientele," said Geoffery Cassidy, managing director of Zetta Jet. "With ARINCDirect service, our customers can meet their business and entertainment needs by bringing their office into the sky, streaming videos and using social media to make their time onboard productive and enjoyable."
"We are moving from basic satellite connectivity on aircraft to creating an airborne network," said David Stanley, vice president, ARINCDirect Cabin Services for Rockwell Collins. Our team played a key role in the delivery of this service by architecting, configuring and troubleshooting the network so Zetta Jet's passengers get the best experience possible."
In addition to the cabin connectivity, Zetta Jet's Global 6000* business jet is equipped with the Bombardier Vision* flight deck, powered by Rockwell Collins' award-winning Pro Line Fusion®. The Global 6000* business jet also features Bombardier Business Aircraft's latest cabin management system. A testimony to Bombardier's dedication to provide the best customer experience, Bombardier took the highly capable Rockwell Collins VenueTM system and customized it with a unique interface for enhanced flexibility. Beyond the cabin connectivity services, Rockwell Collins' ARINCDirect also provides flight planning and flight operations scheduling to Zetta Jet's fleet of business aviation aircraft.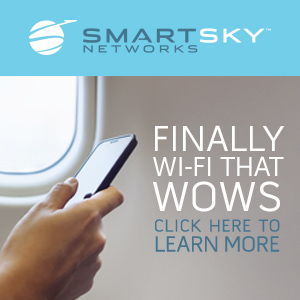 About Zetta Jet
The world's first truly personalized private airline, Zetta Jet promises to deliver the ultimate in bespoke luxury experiences to a discerning clientele with its unique experience that combines the dedicated Asian service philosophy with the flexibility and 'can-do' spirit of the U.S., adorned with the glamour of Europe's enduring chic on its Bombardier Global fleet with ultra-long range intercontinental capabilities across the Pacific Rim.
Headquartered in Singapore, Zetta Jet is a FAA certificated air carrier and the first only part 135 operator authorized to conduct Polar flights, enabling Zetta Jet to optimize routes without limitation. With strong operational capabilities and established offices both in Los Angeles and Singapore, Zetta Jet also leverages an established network of sales and support offices in New York, London, San José, Harbin and Singapore. www.zettajet.com
About Rockwell Collins
Rockwell Collins is a pioneer in the development and deployment of innovative aviation and high-integrity solutions for both commercial and government applications. Our expertise in flight deck avionics, cabin electronics, mission communications, simulation and training, and information management is delivered by a global workforce, and a service and support network that crosses more than 150 countries. To find out more, please visit www.rockwellcollins.com.
*Trademarks of Bombardier Inc. or its subsidiaries.