With two significant deals signed in the past month for Gogo's 2Ku solution, one could be forgiven for focusing on the commercial aviation segment of Gogo's business these days. But the company's most mature segment – Business Aviation – continues to move forward, as Gogo improves the suite of options available for the smaller, private aircraft it serves. Specifically, two new high-speed connectivity solutions are rolling into the portfolio, along with upgrades to the company's inflight entertainment kit for private jets.
Representing a specially designed application of Gogo's latest air-to-ground technology, Gogo Biz 4G has completed its initial flight testing phase on board the company's Challenger 600 testbed. The solution is quickly moving towards offerability (expected in early 2017) and will allow for aircraft operators to upgrade from the existing 3G speeds to 4G.
The increased bandwidth to the plane will support, among other things, "streaming video and audio from services like Hulu, Netflix, YouTube, Pandora, and Spotify", according to the company. It's an ambitious project. These streaming services are not supported on the Gogo ATG-4 network used by commercial airlines because of the number of passengers on board each plane. Fewer users on the smaller jets makes streaming a more viable option, says Gogo.
The Gogo Biz 4G system also offers the Gogo Vision onboard streaming media service, allowing customers to choose from the library of stored content rather than paying per byte to download and stream to the aircraft.
Upgrades to the Gogo Vision platform for the Business Aviation market are also part of Gogo's recent announcements. The company's so-called UCS 5000 smart cabin system, inclusive of router, can now facilitate the option of integrating Gogo Vision into the kit, including approximately 200 movies and TV shows, plus weather, maps and news.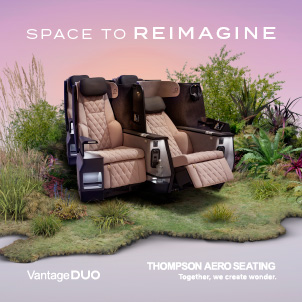 "There's a lot of talk about being able to stream movies and TV programs in flight," says John Wade, Gogo Business Aviation's executive vice president and general manager. "Streaming services are great, but if you stream inflight movies over a live connection from the ground, the cost of all those megabytes can be astronomical. Gogo Vision gives passengers a fantastic, turn-key IFE experience, minus the unpredictable costs."
With a fixed cost of $10 per movie or $6 per TV show (plus $525 monthly base fee; max $895/month regardless of consumption) the costs are easy to plan into the operation budget of the aircraft. The system also offers the ability to push the Gogo Vision content to cabin monitors rather than to passenger devices.
Outside of North America, Gogo is deepening its ties to the European business aviation market, with a refined customer loyalty program for its Inmarsat SwiftBroadband-supported connectivity services.
Finally, Gogo has added the Jet ConneX product to its portfolio of global connectivity options in the segment. Or, perhaps, reaffirmed that it will offer the solution. Jet ConneX is the business aviation branding for Inmarsat Aviation's Ka-band platform, known as Global Xpress (GX) in the commercial aviation segment. Gogo's authorization to resell GX to commercial airlines was terminated in late 2015, but at that time both Gogo and Inmarsat acknowledged that the Value Added Reseller relationship with Gogo would remain in place for its Business Aviation unit.
Honeywell is building the terminal units for GX, and as the firm moves forward with the necessary antenna hardware testing on more than 20 different aircraft types, it is expected that installations on customer aircraft will begin in the very near future. Inmarsat remains insistent that the system will be in service imminently; CEO Leo Mondale stated that the product launch was "weeks off, not quarters" at Aircraft Interiors Expo in Hamburg at the beginning of April.
Furthering the notion that the production roll-out of GX is expected soon, Rockwell Collins – another VAR for the service – in a statement this week says, "In a series of recent network tests, Rockwell Collins has validated the performance of Inmarsat's Jet ConneX high-speed broadband service for the business aviation market, as well as a number of its own value-added services."
Meanwhile, Gogo's Business Aviation portfolio is strong and set to improve significantly with both terrestrial and satellite-based connectivity and integrated entertainment options. Neither the 4G nor Jet ConneX are ready for install today, but within a year both should be operational on production aircraft.