Commercial airline passengers increasingly expect to step on board and connect their smart phone, tablet or laptop to the Internet. This demand is driving a surge in airborne communications.
Operators flying business, VIP and head-of-state aircraft have all the connectivity requirements of the airlines, but expect solutions to meet both quality-of-service metrics and feature enhanced security. Connectivity is delivered through familiar satellite networks – Inmarsat, Iridium, ViaSat and a host of Ku satellite operators – as well as ATG services via Gogo (and in the future, SmartSky).
Larger business and VIP aircraft, ranging from Gulfstreams and Bombardier Global jets to commercial airliner conversions, typically feature multiple connectivity options through a variety of networks. The industry's service providers therefore work hard to enable seamless, cost-effective communication wherever an aircraft flies.
Satcom Direct, established in 1997 and recently rebranded as SD, touts itself as the world's leading business aviation connectivity service provider, with solutions on more that 7,000 aircraft. It is also a specialist in delivering secure connectivity to head-of-state and government/military senior leadership aircraft. Success in this sensitive market is founded on reliability and trust, and while SD is unable to name customers, it acknowledges that it services all of the US government's senior leadership aircraft.
In SD's view, Inmarsat, Iridium and ViaSat are "three primary satellite operators" and SD is "a top tier partner for all of them".
"They have different generations of satellites offering different services and we provide them all. I often tell potential customers that if you can fit a satellite antenna on your aircraft, plus a terminal meant for communication or voice services for your cabin or cockpit, SD can serve it," says Michael Skou Christensen, SD's general director Europe and Asia.
"SD's owners don't want to stand back and see somebody else go forward with a new technology. They'd rather be the first movers, and a lot of our customers know that when they're serviced by SD they'll get input on the newest technology. They know they'll be part of the discussion on what we should develop and because it's a privately owned company with in-house development capabilities, we can move a lot faster than many of our competitors."
In 2012, the Florida-based company began expanding internationally, and a year later, it made its initial move into hardware, certifying the Satcom Direct Router (SDR), developed as an interface between aircraft systems and satellite and ATG services. First installed in a customer aircraft in February 2014, the SDR brings multi-functional connectivity and Wi-Fi to super mid-size and ultra-long range business jets – more than 300 units had been shipped by March this year.
Weighing 8.6-lbs, the SDR is by no means large, but for most operators its size precludes installation in smaller jets. For them, SD has created the SD Wi-Fi Hub.
Launched early this month at the ABACE show in Shanghai, the SD Wi-Fi Hub weighs just 1.8-lbs and can be used as a standalone router or as a versatile lightweight hub, enabling Citation and Learjet users, for example, to install the box 'where it fits', rather than allocating space in a dedicated avionics rack.
Like the SDR, the Wi-Fi Hub is compatible with both satellite and ATG networks, but given its application to smaller aircraft unable to mount a tail or fuselage satellite antenna, ATG is likely to provide the Hub's primary pipe.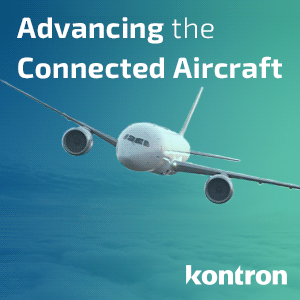 Optimised for voice and data service, it can also stream IFE. And the inclusion of two ARINC 429 receiving sockets enables important aircraft health monitoring services. SD's 'Global VT' branded solution, also part of the Hub, enables passengers to use their own iOS or Android phone and retain their personal number inflight, while enjoying reduced latency and higher bandwidth compared with non-SD routers. SD's 'Global One IP' – or GoIP – allocates a single IP address to an aircraft allowing, according to SD, 'better security and seamless network transitions worldwide.'
With a fraction of the SDR's footprint and at a fraction of its cost, the Wi-Fi Hub inevitably lacks some of the larger unit's functionality. It offers reduced support to legacy systems, with no ISDN connectivity for example, and has no provision for SkyBond. The latter is SD's bonding service, combining up to four channels of SwiftBroadband X-Stream service to deliver as much as 1.4 Mbps for mission-specific applications. SD is confident that SkyBond and other SDR-only features offer only limited utility to short-range operators, for whom the Wi-Fi Hub still enables hitherto impossible options.
The Hub's lightweight and compact size also benefit its use as an adjunct to SDR in large aircraft applications. Likely to find a place in jets ranging in size from the G550 up to the largest airliner conversions, the Wi-Fi Hub combines with the SDR as a versatile wireless access point (WAP).
In a typical application of an SDR with one Hub, the latter might function as a WAP and handle streaming IFE. Alternatively, three or four Hubs installed throughout a 777 BBJ to complement a single SDR, for example, will deliver consistent Wi-Fi throughout the cabin.
SD intends to gain the initial Wi-Fi Hub STC, for the Citation CJ3, in May. The first consumer units are scheduled to ship in June. These will offer the majority of the Hub's initial functionality, with the exception of Global VT, which should arrive with a 1.1 release in September. This second release will include an alternative Hub standard, configured to enable LTE Radio connectivity, while all subsequent Wi-Fi Hub developments, as with the SDR, will be software driven.
SD is not alone in this space; the BendixKing (Honeywell) Aerowave 100 system competes with the SD Wi-Fi Hub since it's targeted at smaller aircraft, while Rockwell Collins' ARINC Direct hardware competes with the SDR
At the end of the day, SD's support "is perhaps the most important thing about our products", according to Christensen. "We supply 24/7 support, have insight into every satellite network we provide service on, and have field service representatives around the world."