Panasonic Avionics Corporation (Panasonic), the world leader in inflight entertainment and communications, today announced that its NFC reader is now available for in-seat production at multiple OEMs – a first in the aviation industry.
Panasonic's NFC reader is already EMV* compliant with MasterCard. The company is in ongoing discussions with major credit card providers including Visa and China Union Pay, and is opening discussions with Discover, and American Express. It expects to obtain compliance in the coming months.
Panasonic expects its NFC technology also will be used by airlines for a wide range of non-payment applications including:
• More secure synchronization of personal data
• Recognition of a passenger's Frequent Flyer status, giving access to benefits or promotions, such as free Wi-Fi for Gold members
• Crew check in and check out
• Pairing of NFC-enabled devices with the embedded IFEC system, allowing airlines to push information to passengers during their flight
Paul Margis, President and Chief Executive Officer for Panasonic Avionics said, "This significant milestone clearly demonstrates our continued leadership in developing technologies that create a seamless passenger travel experience. For airlines, EMV payments on IFE platforms should help eliminate potential transaction liabilities that they face today. In addition, passengers will be able to synchronize their own trusted token to the IFE system and create unique "just-for-me" experiences without compromising any of the personal data stored on their own device."
The announcement follows continued growth in NFC-enabled devices. A recent study from Juniper Research** found that the annual transaction value of online, mobile and contactless payments will reach $3.6 trillion this year, a 20% increase on 2015.
Notes to editors:
*EMV stands for Europay, MasterCard, Visa. It is the global standard for chip-based Debit and Credit Card transactions. It is a joint effort between Europay, MasterCard and Visa to ensure security and global acceptance so that MasterCard and Visa Cards can continue to be used everywhere.
**Digital Payment Strategies: Online, Mobile & Contactless 2016-2020 – Juniper Research, 2016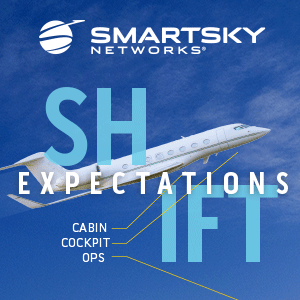 About the Panasonic Avionics Corporation
Panasonic Avionics Corporation is the world's leading supplier of inflight entertainment and communication systems. The company's best-in-class solutions, supported by professional maintenance services, fully integrate with the cabin enabling its customers to deliver the ultimate travel experiences with a rich variety of entertainment choices, resulting in improved quality communication systems and solutions, reduced time-to-market and lower overall costs.
Established in 1979, Panasonic Avionics Corporation, a U.S. corporation, is a subsidiary of Panasonic Corporation of North America, the principal North American subsidiary of Panasonic Corporation. Headquartered in Lake Forest, California with over 4,100 employees and operations in 80 global locations, it has delivered over 8,000 IFE systems and 1,000 inflight connectivity solutions to the world's leading airlines. For additional information, please visit www.panasonic.aero.
Featured image credited to istock.com/JakeOlimb