In October of last year, Apple reported that iPad sales had declined for the seventh straight quarter since peaking in 2011. Later that same week, online statistics portal Statista.com reported that global tablet shipments have also been in steady decline for the last four quarters. And though Statista placed the blame squarely at the feet of ever-evolving hybrid smartphones, which, in becoming faster, smarter and bigger have all but cannibalized the tablet market, a simple glance up and down the aisles of any airplane cabin in the world tells a very different story. Passengers may not be updating their tablets as often as they do their carrier-subsidized smartphones, but, to paraphrase Mark Twain, the rumors of the tablet's demise are greatly exaggerated.
And while the host of innovative PED storage solutions that have been flooding the Aircraft Interiors Expo (AIX) in Hamburg over the past couple of years offer further proof of the very real need for PED storage solutions in the BYOD era, sometimes all passengers really want is a place to mount and/or hang their iPad and watch a movie, as evidenced by the photos of improvised solutions shared regularly on social media.
And that's where Global Aerospace Design Corp's PED Pouch comes in handy. Produced by GADC's product development group Kanar Technologies, and short-listed this year for a Crystal Cabin Award, the PED Pouch is exactly what it sounds like: a simple, over-the-seat pouch with a clear, touch-sensitive viewing window. Designed to hold all PEDs currently on the market, the PED Pouch also attaches to any aircraft seat without impacting existing seat certification.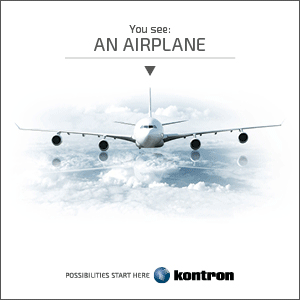 Aside from improving #PaxEx by reducing neck strain, the PED Pouch comes equipped with a mechanism on the back that allows passengers to adjust the viewing angle of their PEDs, and slots on all sides to accommodate charging cables and headphones. It also meets FAA flammability requirements, includes an RFID tracking option that ensures it isn't removed from the cabin without authorization, and is available in a wide variety of leather and fabric options to meet airline branding and interior design requirements, according to GADC.
"Our PED Pouch provides a passenger enhancement solution that is long overdue," suggests company VP of business development Todd Hamblin. "Our pouch does not require all customers to have iPads or the airline customer to modify and recertify their seats by swapping out all the tray tables throughout the aircraft. The PED Pouch [simply] allows passengers to keep their eyes at a level and comfortable viewing angle while freeing up valuable tray table space for meal services and emergency egress."
Hamblin says input from Dutch Caribbean launch customer Insel Air, and up-and-coming seat vendor ComFly (in attendance at AIX for the first time this year) was also key in streamlining the development of the PED Pouch at GADC.
"ComFly have provided valuable opinions from a seat vendor's point of view and have been gracious enough to allow us to display the Pouch on their seats during AIX [and] InselAir have been instrumental during our prototyping phase … we will have their fleet fully outfitted by the end of 2016," Hamblin explains.
And though some might question the wisdom of developing a tablet-sized PED Pouch in an era of flatlining tablet sales, Hamblin remains optimistic. "I see the BYOD trend growing over the years as PEDs continue to get faster and become capable of holding more memory [and] the complementary systems like wifi and wireless IFE improve their services. We see the best growth potential in the regional market as airlines are asking their smaller aircraft to fly longer routes and passenger comfort has really never been taken seriously on these type of aircraft," he says.
"Our goal has always been to partner with our airline customers as we feel this provides a better and longer lasting relationship. Through these relationships we can develop and introduce products like the PED Pouch that will benefit the aviation community. Most problems are not unique so by helping develop a solution for one customer we are hopefully solving problems for the entire industry."