There is a reason why Samsung and Apple haven't yet been able to simply glide into the #PaxEx sector and quickly transform their tablets into integrated seat-back inflight entertainment (IFE) monitors, as Samsung would very much like to do in partnership with BAE Systems and as Apple may have given some thought to doing if it wasn't already seemingly satisfied with having conquered the world.
Yes, breaking into embedded IFE is arduous and costly. But the ability to not physically break and potentially impale someone on impact has proven to be the greater challenge for Samsung tablets, it would seem.
Standards covering Head Injury Criterion (HIC) for integrated IFE/seats are so stringent that off-the-shelf tablets with gorilla glass haven't yet been able to pass muster.
"Taking an off-the-shelf tablet through HIC is very, very difficult to do; there are a lot of challenges there. We're looking at that hard to see how to do that process and have a certified embedded tablet," says Jared Shoemaker, director – cabin systems, Commercial Aircraft Solutions at BAE Systems, which has just announced that Indian start-up carrier Vistara will launch BAE's so-called 'IntelliCabin' wireless IFE solution on its Airbus A320 aircraft, and will ultimately offer integrated seat-back Samsung tablets in its business class seats.
"There are some major technology hurdles" to integrating tablets into the seats, confirms Shoemaker. "It's a very difficult test to pass both mechanically and electronically. We're lucky we have access to data on how [Samsung's] devices operate but we're a way's away from even clearing some of the technology hurdles in terms of keeping the devices together from a debris perspective for the test."
Embraer and its partner on the E2 cabin, Priestmangoode, have also been trying to figure out a way to integrate off-the-shelf tablets because the Brazilian airframer wants to be able to use tablets for seat-back IFE and swap them out when they go out of style without requiring repeated HIC tests. But when we last checked in with both firms, they seemed befuddled about how to proceed.
In announcing a new low-cost embedded IFE system called iPAX Lumexis recently revealed it has opted to use plastic OLED screens, and has zero interest in integrating iPad or Galaxy Tabs. "We still have to pass a HIC test for iPAX, but you don't have the delethalization (sharp edge trauma) issues that a typical glass screen would have," says Lumexis VP of sales Jon Norris.
At this juncture the IFE supplier that appears to be furthest down the road with a solution is Lufthansa Systems, which last year unveiled its aptly named 'Seat Integrated Tablet Solution' featuring a moveable thermoplastic shield in front of the tablet, even though airlines traditionally eschew moving parts due to maintenance concerns.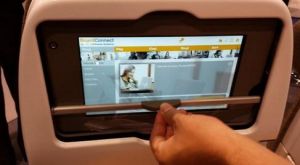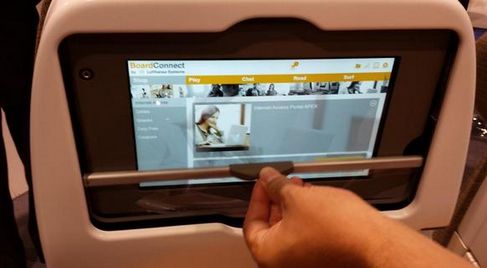 "It is mandatory for every seat vendor to pass the HIC. Thus, any in-seat tablet solution has to comply with the same regulatory requirements as any legacy IFE system [which have been ruggedized for the onboard environment]. To avoid additional HIC tests when updating to the next tablet generation, our seat-integrated tablets will be shielded by a transparent polycarbonate cover during taxi, take-off and landing," Lufthansa Systems VP, BoardConnect Norbert Mueller told RGN when we asked if the company still plans to use the screen.
However, Mueller also admits that while the Seated Integrated Tablet Solution will be showcased at this week's Aircraft Interiors Expo in Hamburg  – after debuting at the APEX Expo last year – Lufthansa Systems hasn't done the HIC testing yet."The first certification did not yet take place. We are planning to certify the system together with a launching customer and the respective seat provider."
It's not clear if BAE Systems will adopt a similar course of action, and require that a transparent shield cover Samsung tablets during critical phases of flight when the Vistara seat integration project gets underway. But as BAE works through the process, the company is providing an "interim solution" to the Indian airline.
Vistara's A320s features 16 business class seats, and flight attendants are handing out pre-loaded Samsung Galaxy tablets to premium passengers on takeoff. This will serve as a stop-gap measure while BAE works to secure supplemental type certification (STC) for its IntelliCabin wireless IFE solution, which will stream content to all passengers' devices, in addition to the Galaxy tablets in business class (be they distributed by flight attendants or eventually fully integrated into the seats).
"It gives [the airline] a solution while we work through STC [on the wireless IFE product], and then once the streaming is done and installed, those [business class] tablets flip over – and while they'll store some local content – the movie and TV shows are streamed from the server," says BAE's Shoemaker.
Vistara chief commercial officer Giamming Toh says, "The streaming content will not differ from class to class as there are no plans to charge separately for the content. Pre-loaded tablets, however, provide platform to us for additional premium content for business class passengers."
Shoemaker confirms, however, that the pre-loaded tablets don't feature early window Hollywood movie content. "We ran into an issue of getting approvals with Hollywood studios because of data storage. Early window is later. The mechanisms we have to put in place are significant, so with our discussion with Vistara there wasn't a need to drive that complexity into the solution," he says. "But when you think about it, Vistara has as domestic fleet, so [they're interested in] largely Bollywood, which is not DRM, so it didn't demand the capability. We're working closely with Global Eagle Entertainment, and use their WISE [wireless IFE software] as the backbone of our system, and they facilitate a lot of those approvals. Being somewhat new in this, we've build up partners like Global Eagle who have been around, we're not trying to blaze new trails. We have people who know how to blaze that path."
For a couple of months BAE has been working to secure EASA STC and approval from Indian authorities to install the IntelliCabin streaming solution; it is targeting first install at the end of the third quarter or beginning of the fourth quarter. "Vistara's fleet is small so we're looking to minimize downtime," says Shoemaker. "We install on a series of three to four overnights, but the learning curve will [see us get] a little faster, and we're aiming for three overnights. It's happening in Delhi…"
Though passengers will not have access to in-seat power, Vistara's Toh reveals that the carrier remains "open to [the] idea of installing in-seat power".
Meanwhile, on the integrated tablet front, one wonders if everyone will cool their jets until Corning develops unbreakable gorilla glass, a goal the company is certainly working towards, as evidenced in the video below.