Airbus, Thales, Air France, Zodiac Aerospace, thermoplastics company Hutchinson and French industrial conglomerate Daher are on the hunt for the best and brightest start-ups in the passenger experience (#PaxEx) sector and more broadly in aerospace, says the man behind a new "start-up incubator" known as Starburst Accelerator.
Founder Francois Chopard is a former partner at Oliver Wyman, where he advised aerospace OEMs, suppliers and airlines on technology innovation strategies. He tells RGN that the aforementioned French heavyweights are all former clients of his that are now "partners" in Starburst. "So I know them very well, and have been working with them for years. I know their needs and what they're lacking, and that is working with external, very innovative companies."
Chopard's remit is to identify the most innovative start-ups around the world. He's focused on "all the airline and aerospace subjects so we're looking a lot in the cabin of course, and we're looking at maintenance and the broader passenger experience [end-to-end] plus materials processes, and everything that connects the aircraft," he says.
Once an interesting start-up has been identified, "they come and pitch in front of our committee and it can be done physically or via video conference", says Chopard. "Then there is a vote and each person in the committee votes. The committee comprises three parts – the partners; government, regions and their investment banks; and venture capitalists."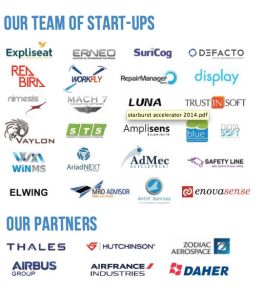 If a company is selected, then "we take a small stake" in the firm and connect them with clients, says Chopard. "So we open the doors to very large corporations like Airbus, Air France, Thales and others, and [they can] enter business much, much faster."
Bertrand Demotes-Mainard, director of Thales Research & Technology, tells RGN that in addition to eyeing new technology providers, the group is on the lookout for new products and start-ups "that can even become new customers" to the aerospace giants.
"We are looking to new business models and ideas around the global market," adds Demotes-Mainard.
French aircraft seat maker Expliseat seems to be somewhat of a darling in the industry right now. Its lightweight titanium seat has received a lot of press attention of late. And Starburst has taken Expliseat under its wing, according to Chopard.
"We are assisting them in raising funds and yes, in a couple of months or a year, they will change the landscape [and will] grow very, very fast. We expect them to do a couple hundred million of turnover in the near short-term. Airbus is a fan," says Chopard. He stresses, however, that Starburst doesn't have a specific contract with Expliseat "but they are in our eco systems. We know them very well; they are part of our events and when we can help them with airlines or VC [venture capital] we do it."
Will Airbus allow Expliseat into its catalogue? "Right now Airbus is very focused on its supply chain and doesn't want to take too much risk, so it's more looking at what's going on. [But in relation to] incorporating them into catalogue, they are still looking at what Expliseat is doing and how they're building their own supply chain to manufacture their seats. Other Tier 1 players are very interested in what Expliseat is doing."
Startburst's cadre of start-up clients include an IFE company called Display. "We're seeing more alternatives to the current offerings in IFE, notes Thales' Demotes-Mainard. "There are low-cost options for connectivity and IFE."
Asked by RGN how he views the IFE and connectivity market as a whole, Chopard says, "We were at APEX [Expo] and for me Panasonic and Thales are still number 1 and 2 big players. And Zodiac is not too far behind. Rockwell Collins is coming back in the field, and then you see these new players like Global Eagle Entertainment; they're trying to integrate all of these acquisitions very fast, and then yes, there are so many new players, whether providing Wi-Fi service or even content, it's going everywhere.
"And then, the new big thing is the new antennas, in Ku or Ka bands, providing higher rate of connection and Internet, and for me the big chance here is you'll be able to pay and have connections in a much easier way than before, and I don't think the main players have really thought through all the new capabilities that [can be brought] to global passengers and airlines. For ancillary revenue, the duty free catalogue represents a huge opportunity for everyone to develop more business and make more money," he suggests.
"Right now there is a huge fight between the antenna manufacturers, the satellite broadband providers, and the main IFE players and you see all of these new alliances coming and all of these networks, between Inmarsat, ViaSat, etc. In two years it will be completely different I'm sure."
Other members of the Starburst "team" include MRO Advisor, which "is providing software and project management capabilities for small airlines", and Enveno, which "makes money on the end of life of an aircraft, and uses parts as much as possible that are still good and can be reused for other aircraft".
Outside of #PaxEx and maintenance, new drone operators are among the aerospace companies of interest to Starburst, as is space, says Demotes-Mainard.
Are there any limits to the number of starts-ups who can play on the team? "
"I don't think we have limits," says Chopard. I'm becoming a super salesman for start-ups now and knock on the door of the big players and sell them to the biggest players. I'm looking at extending in North America to be able to target and identify start-ups that are emerging in the US or Canada. Additionally, I'm developing a network of partners, in North America and Brazil as well as in Singapore and the Middle East so we're in the very interesting and growing environments, and trying to develop the same strategic structure around Montreal and I'd love to do the same in Los Angeles. … not only IFE, but other areas."