IATA may be "a bit more nimble" than ICAO and therefore best suited to act quickly on proposed changes to aircraft tracking policies in the wake of the MH370 disappearance but it is not entirely clear that being the quickest means the group will have the best answers.
For IATA's recently convened Aircraft Tracking Task Force (ATTF) and Kevin Hiatt, chair of its steering committee, progress has been rapid and is expected to maintain such a pace. It is unclear, however, if everyone in the group is on the same page or even if they've fully realized the scope of their mandate.
Both Hiatt and IATA CEO Tony Tyler agree that tracking aircraft – and not streaming data – is the first step and the only item the ATTF will be acting on at this juncture.
They also agree that the necessary technology likely already exists. Tyler stated this outright during IATA's annual general meeting in Doha, and Hiatt noted that more than 30 vendors have been approved to present to the ATTF on how their products or services might address the tracking issue.
Ever since the 8 March disappearance of MH370, aerospace industry stakeholders have been aggressively flogging their flight tracking capabilities – from Inmarsat's proposed "free" tracking service and Iridium's planned Aireon global air traffic surveillance network to Panasonic's FlightLink solution and SITA's Aircom Server Flight Tracker, and many more.
Even Qatar Airways CEO Akbar al Bakar got in on this topic during the IATA conference, noting that his company was looking at options to receive tracking data via ACARS transmissions.
Bakar went a step further, though, suggesting that the data transmissions depend on the system remaining active and that removing such control from the pilots is likely a necessary step for the ATTF to recommend, "I'm sure [the ATTF] will pursue this matter further in order that nobody on an airplane will be able to switch off any system and that automatically an airplane will be tracked. We are in the 21st century and unfortunately we are still learning. I'm sure this will be a very big eye-opener for everybody, especially for CEOs of airlines who want to fly their aircraft in an extremely safe environment for our passengers and our crew."
The Qatar Airways chief's statement highlights the conundrum now faced by the industry – do you allow a flight tracking system to be shut off or don't you?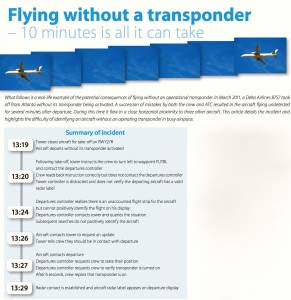 As Inmarsat VP Aviation David Coiley recently pointed out in reference to MH370, "Basically someone didn't want to communicate, or didn't want the aircraft systems to communicate, and appear to have taken steps to cut off all the systems that would normally be used to communicate to and from the aircraft." But sometimes such action is not purposeful. Eurocontrol recently highlighted how flying without an activated transponder does happen (click on image to the right).
Leaning on his experience as a pilot Hiatt suggested in Doha that any proposal involving a flight tracking solution that cannot be turned off is going to require at least some discussions, and he intimated that it would likely be a hard sell.
"OEMs are telling us that potentially they can make the system tamper-proof, however, in the past…if I had a particular piece of equipment in the cockpit and I wanted to potentially stop it from being on fire I could reach somewhere and disable that," said Hiatt. "Now we're saying that we may want to take that away from the pilot so there's some diverse opinions there which will be explored."
It is easy to see that trading one version of aircraft safety for another might not ultimately be the best solution.
And then there is the 800 pound gorilla in the room: cost.
Tyler offered up the opinion that cost is a very real part of the discussion, "One of the issues we need to look at is, of course, the cost of doing all this. It would be wrong to think that this isn't an important consideration. …We'll need to talk about how much it might cost and who will pay for it." Hiatt had a rather different take, suggesting that airline CEOs are consistent in their view that cost is not a factor in safety decisions. And while some did say that when asked publicly during a panel at the conference, it is not clear how that translates into actions. But if none of the CEOs were worried about the costs they'd already have the systems in place today, right?
Hiatt also stated, "I don't expect that we'll see the costs passed along to the passengers." This view seems a bit naïve. He is certainly correct that "[M]aybe some carriers have almost all of what they need to start and there might be carriers that have absolutely nothing yet and they're going to have to start," and that positioning will change the costs to each carrier. But there will still be very real costs and until IATA or ICAO comes up with a set of guidelines it is unlikely that airlines will make any changes.
Finally, part of the cost equation is determining how many aircraft need to be fitted with the hardware. And neither Tyler nor Hiatt seem to have an answer to that question yet. Hiatt indicated in his briefing that, "We're working on that number right now so we can define the scope of what we need to concentrate on." It seems that the regions without radar coverage are well known. The number of planes crossing them, however, is not. Nor do we know what types of aircraft they are, the systems installed on board today or what can be installed. That's a lot of unknowns for an organization which hopes to make recommendations in 3 months' time.
Related link:
Airline meeting adjourns with earnest calls for flight tracking