MADRID: Like many carriers that offer electrically adjustable seats in their premium class cabins Emirates is grappling with the problem of passengers' personal electronic devices (PEDs) slipping into the seat mechanism, being crushed, and creating a fire hazard. Consequently, the carrier has implemented new measures aimed at preventing lithium battery-related fires on board.
"A lot of us have aircraft with seats that move mechanically within our premier cabins. We have had problems at Emirates where we've had mobile phones fall down by the side, where the passenger has moved it [the seat], and it's crushed – the battery inside the mobile phone," Emirates safety manager, cabin, Anabel Carter explained today at the IATA Cabin Operations Safety Conference in Madrid.
As soon as a passenger reports that his or her PED has slipped down the side of the seat, Emirates cabin crew are now instructed not to move the seat in any way. "Because moving it could crush the battery so that's one of the things we're looking at," explains Carter, who chairs the IATA Cabin Operations Safety Task Force.
Cabin crew "awareness, vigilance, monitoring and training" are all essential aspects of Emirates' lithium battery fire prevention efforts. Noting that some passengers travel with as many as four PEDs, and Emirates premium passengers can charge three PEDs at the same time at their seat, Carter says, "over-charging may lead to overheating" so crew "need to be able to react in time to the consequences", including isolating power until it can be determined it's free of faults.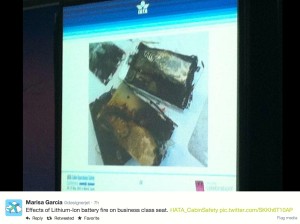 Carter suggests that airlines can use annual recurrent crew training and Ab initio training as an opportunity to reinforce procedures for dealing with potential onboard hazards such as lithium battery-related incidents.
A unique and unusual combination of factors can generate a PED battery-related fire on board aircraft, as explained in-depth on Runway Girl Network. The hazards are very real, stresses Geoff Leach, past chair of the ICAO Dangerous Goods Panel, but there has to be a balance between safety, security and reality. "We're in fairyland" if we think we're going to prevent people from using PEDs in-flight. "They are part of our life."
He says ICAO Document 9481 contains information about PEDs "but not enough" so guidance is being added about what to do if a device slides down the side of a seat. The guidance already adopted by Emirates – instructing crew not to move the seat whatsoever once a device is trapped – will be included.
PED battery-related fires in overhead lockers will also be addressed, with a recommendation not to open a bag that is on fire "because if you open it and the air hits it, it's very dangerous", says Leach. In this instance, it's advisable for crew to use protective gloves. Some carriers still don't carry protective equipment, but "maybe now is the time to start thinking about buying a pair of fire gloves", he says.
Educating passengers about the dangers is crucial, he says, suggesting that airlines could start by providing information to passengers in their inflight magazines, something they generally don't seem keen to do. Airlines could, for instance, recommend that if a passenger is going to go to sleep, not to place his or her PED next to them, but rather put it in a safe place or in the seat back pocket so it doesn't fall down in the seat. Cabin crew can also remind passengers what to look out for.
Related articles: