A US lawmaker who chairs the House committee on Homeland Security is urging the Transportation Security Administration and the Federal Bureau of Investigation to ensure that individuals involved in the domestic terrorist attack on the US Capitol are added to the No-Fly List.
Created in the aftermath of 9/11, the No-Fly List is a record of people who are prohibited from boarding commercial aircraft for travel within, into, or out of the United States.
Following the 6 January storming of the US Capitol by a mob of pro-Trump rioters, committee chair Representative Bennie Thompson (D-MS) urged the TSA and FBI to act, saying the No-Fly list "should include all individuals identified as having entered the Capitol building — an intrusion which threatened the safety of Members of Congress and staff and served as an attack on our Nation".
His request came as major flight attendant unions sounded the alarm that their cabin crew members were forced to confront passengers who exhibited politically motivated aggression towards other passengers and crew before the US Capitol riots.
The mob mentality behavior that took place on several flights to Washington DC "was unacceptable and threatened the safety and security of every single person on board. It will not happen again. There's a reason that there are strict penalties and fines for failing to comply with crewmember instructions. Enforcement keeps everyone safe," said Association of Flight Attendants-CWA (AFA) International president Sara Nelson in a statement.
The AFA-CWA represents nearly 50,000 flight attendants at 17 airlines. One of the most vocal advocates for crew members in the world, Nelson added: "Airlines, in coordination with TSA, DHS, FAA, DOT and law enforcement must take all steps to ensure the safety and security of passengers and crew by keeping all problems on the ground."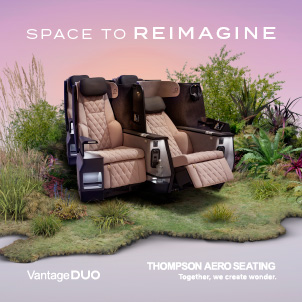 The Association of Professional Flight Attendants (APFA), which represents over 27,000 flight attendants at American Airlines, said: "As safety professionals, we are well trained in handling inflight disruptions, but we should never find ourselves having to deal with politically motivated verbal or physical altercations on board.
"Please continue to maintain situational awareness, and attempt to deal with all safety and security issues on the ground. Remain extra vigilant on flights departing from the Washington DC area for the next few days, and involve your fellow crewmembers if you have safety concerns. Our primary role is safety, and these disruptions have never been and will not be tolerated. We will continue to be in contact with American to ensure everything possible is being done to keep you safe."
For Representative Thompson, reports of unruly behavior on flights to Washington DC underscored the need for action on the part of the TSA and the FBI. "It does not take much imagination to envision how they might act out on their way out of DC if allowed to fly unfettered. This is an action that TSA and the FBI, by law, are able to take but, to my knowledge, have not yet taken. Alleged perpetrators of a domestic terrorist attack who have been identified by the FBI should be held accountable."