Panasonic Avionics Corporation (Panasonic) has appointed Gaston Sandoval, as Global Head of Marketing and Product Management. In this role, Gaston will lead Panasonic's marketing and product strategy as the company evolves into a digital platform and services company and delivers the next generation of passenger experiences.
As Global Head of Marketing and Product Management, Gaston will oversee Panasonic's branding, market insights, product marketing, performance marketing, content marketing, creative, communications, as well as product management.
Before Panasonic, Gaston enjoyed a lengthy, successful career at IBM. As Chief Operating Officer of IBM Digital, he led the deployment and market expansion of IBM's Marketplace. Under his leadership, IBM Marketplace's portfolio grew to include over 1,000 digital offerings, creating a new business unit with more than $1 billion USD in annual sales.
For two years, he served as CMO of the Watson and Software Group in Tokyo. In that role, he led IBM Watson's launch in Japan in partnership with Softbank Group, and established the market for artificial intelligence and cognitive solutions in the region.
He also launched IBM IoT, PaaS and SaaS portfolios, helping make Japan IBM's best performing region globally. As Head of Product Management for IBM datacenter provisioning and endpoint management products in Austin, Texas, he helped drive the foundational capabilities for IBM cloud.
Most recently, Gaston served as SVP, Global Marketing at Openlink Financial, a leading fintech enterprise software company, where he led its marketing transformation to a digital-first, outcome-based organization, repositioning the company that resulted in its accelerated successful acquisition by the ION Group.
Mark Jennings, Chief Operating Officer of Panasonic Avionics Corporation, says: "Gaston brings with him a wealth of experience that makes him the ideal person to lead Panasonic Avionics' repositioning into a digital platform and services company."
Gaston added: "Panasonic Avionics is world renowned for the innovation it continually delivers in the passenger experience. As it evolves into a digital platform and services company, I look forward to the challenge of spearheading a marketing and product strategy which enable a next-generation passenger experience.
Gaston brings extensive global experience having lived and led teams in Japan, China, Latin America and North America. He also holds an MBA from Thunderbird School of Global Management and a B.S. in Computer Science and Computer Engineering from the National Polytechnic School in Ecuador.
He is passionate about sustainable development and runs an NGO in Ecuador focused on supporting families and children in need.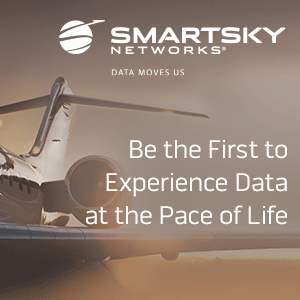 About Panasonic Avionics Corporation
Panasonic Avionics Corporation is the world's leading supplier of inflight entertainment and communication systems. The company's best-in-class solutions, supported by professional maintenance services, fully integrate with the cabin enabling its customers to deliver the ultimate travel experiences with a rich variety of entertainment choices, resulting in improved quality communication systems and solutions, reduced time-to-market and lower overall costs.
Established in 1979, Panasonic Avionics Corporation, a U.S. corporation, is a subsidiary of Panasonic Corporation of North America, the principal North American subsidiary of Panasonic Corporation. Headquartered in Lake Forest, California with over 5,000 employees and operations in 80 global locations, it has delivered over 9,000 IFE systems and 2,000 inflight connectivity solutions to the world's leading airlines.
For additional information, please visit www.panasonic.aero
Featured image credited to istock.com/JakeOlimb